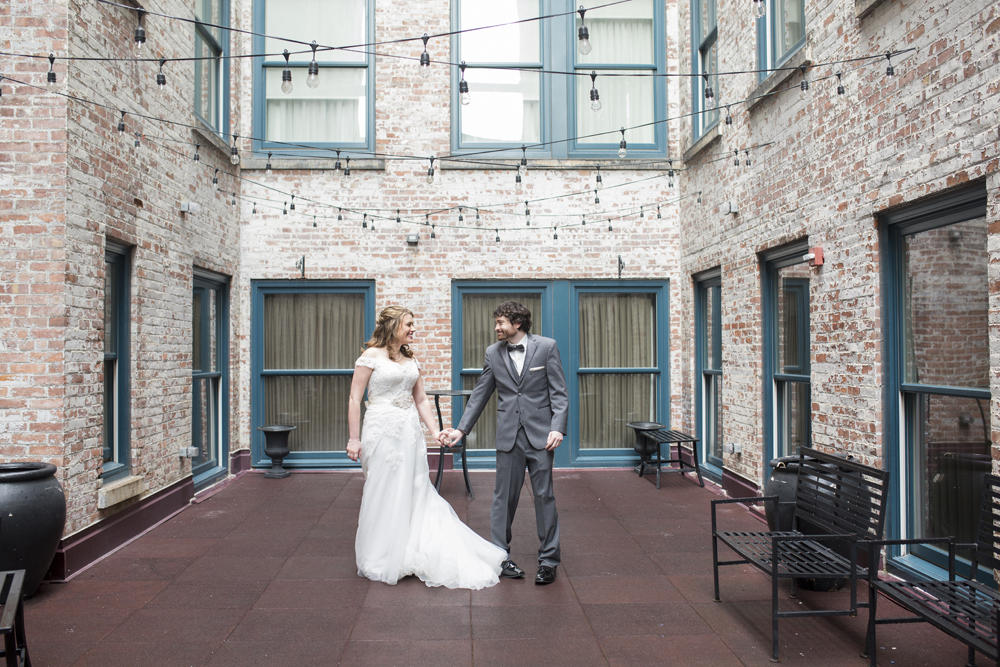 If you are planning your wedding, there is a good chance that you are getting an assortment of advice (some wanted and some not) about how you should plan your big day.  You may even get advice from parents or grand parents who will encourage you to plan your wedding exactly as they had.  Tradition, after all, is a very important thing.  There are many things that are different today from when your parents were married though.  In the days of the last generations, the common tradition was for the bride to be tucked away with her bridesmaids, she gets ready with the girls and the groom anxiously awaits the moment when he sees his bride for the first time at the altar.  It is, as you know, "bad luck" to see the bride on your wedding day before the wedding.  That is not, however, the only way to do things any more.  In fact, in this blog we will talk about the ever increasingly popular First Look.  I will attempt to answer the question "should I do a first look on my wedding day?"
If you aren't sure what a First Look is, let me explain.  This is a moment when the groom can see the bride BEFORE the wedding ceremony.  It is a time for the big reveal.  He will see his soon-to-be bride for the first time, in her wedding dress, ready to go.  If you would like to see what a First Look is like, please feel free to view some of our sample videos on this website.  We have a multitude of videos that show just how emotional the First Look can be.  If you do watch these videos, you will see the raw emotion that comes out in such a fantastic and sincere way.  It is our job to capture this moment and it is much easier to do when you have control over the environment.  For your videographer and photographer, the First Look is amazing and can get you lots of great photos and video so that you can re-live that moment forever…but enough about my own selfish motivation for the First Look.  There is one major reason why we always advocate for a First Look.  Intimacy.  Rather than sharing a private and intimate moment with the person you have chosen to spend your life with in front of hundreds of staring people, the First Look offers an opportunity to spend quality time with one another in private.  Waiting at the altar is nerve wracking and walking down the aisle can be too.  Everyone you invited is staring and you wait in anticipation.  When you arrive at the altar, you have less than a minute to soak in the moment and tell each other what you think, what you're feeling, how you think they look etc.  After that brief moment, you are off to the races and engaged in the ceremony.  When you engage in the First Look, you are able to spend quality time with one another and all of the stress and anxiety melt away.  When it comes time to walk the aisle or wait in front of the church, the anxiety is gone, your nerves will calm and you can enjoy the ceremony together.  You already shared a special moment with that one person you love so much.  That moment is yours and yours alone.  You don't have to share it with everyone in your extended family.
If tradition is important to you and you don't think you can bring yourself to use this modern method of the First Look, we have another idea for you.  The First Look does not have to be solely between the bride and groom.  The bride can do a first look with her father, mother or anyone else who is important to them BEFORE the ceremony.  This not only helps relieve some of the tension and calms the nerves, but it is also a special moment between the bride and people who are important to her.  Some of the best First Looks we have done have been with a bride and her father.  You have no idea how many weeping dads we have filmed over the years.  These moments are intimate and create a memory that lasts forever.  Your father gets to see his little girl as beautiful as can be one last time before he gives her away.  Having the First Look like this before the ceremony is not only a magical moment, it relieves the anxiety of having that moment and getting emotional just seconds before you walk down the aisle.
Having a First Look is definitely the way to go if you haven't yet made up your mind.  Share those important moments with someone you love in an intimate setting so that you can forge a memory that will last forever.