As your Wedding Videographer, our mission is to capture your big day so you can relive it again and reminisce on it years later. You want to remember every part of your day, and that's why we are there. Booking Black Horse Videography is one of the best decisions you could have made.
You're investing a lot of money into this momentous occasion and you want to make sure you're getting the best possible image. So, here are a few tips to help make sure you're getting a video you'll love.
Find the light.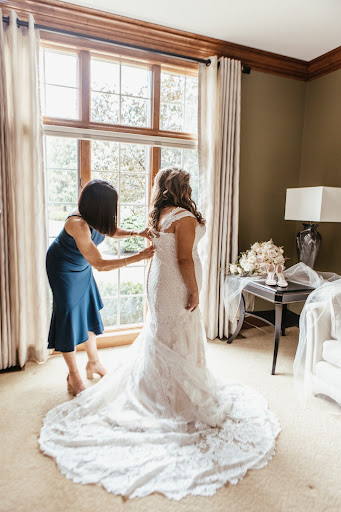 When you're picking a place to get ready, it's best to look for a room with a window. Natural light will always be the best way to make sure your photographer and videographer get the most beautiful, and most well lit, pictures possible. Even when you're getting your hair and makeup done, place your chair in front of the window. Your stylist will also thank you for the extra lighting.
Write a love letter.
If you've watched any of our Wedding Videos, you know we love using the audio we get from the letter exchanges. Your wedding is not just about the event, there is so much more to your love! And when you read your letters out loud, we get to hear about your journey. Nothing is better than listening to your significant other talking about how much they love you.
Stephanie and Alex wrote letters to each other and it was the most emotional moment to have on video.

Stephanie & Alex Highlight Reel 2 from Black Horse Videography on Vimeo.
Communication is key.
It is imperative that you tell your videographer your vision. Tell them about what you're looking forward to seeing in your video. Tell them about any surprises you have planned. The more we know, the better we can prepare and the better your video will be.
A clear itinerary is especially important to us. We have to set up tripods and audio equipment. We need to plan our moves with the photographer and talk to the officiant or coordinator to make sure we're sticking to their guidelines. We ultimately come up with a plan to follow, and even though we are pretty flexible, having an itinerary is key to making sure we're staying on top of everything that's happening. It's a way to make sure we don't miss any important moments as well.
Trust us.
You've probably spent a lot of time hunting down the right Buffalo Wedding Videographer. You've spent hours hunched over a computer looking at portfolios and reading reviews. Before booking, you should have a pretty good idea of their style, personality, and quality of work. And don't forget, you'll be spending the whole day with this person. If you have concerns about any of those aspects, don't book them! You should hire someone you completely trust. If you want to learn more about Black Horse, send us a message!
It's your wedding. Have fun!
There will be a lot going on the day of your wedding, but don't forget to stay present. In fact, the only thing on your mind should be the fact that you're getting married to the love of your life and that your family and friends are here to celebrate with you. Go with the flow of things and enjoy your day. Your vendors will take care of everything else.
But why is it important to have fun? How will it affect your video? Your emotions will come through on camera and this will be a video you watch for many years to come. If you're stressed or tense, that's what the cameras will see and thus, what you will see looking back. So, take a deep breath. Heck, even take a shot of whiskey if you need it to help settle the nerves. Then, let your big day happen.
Want to learn more about Black Horse Videography and how we can film your day? Head out to our contact form.